Agility
Agility Training is a wonderful activity  for you and your Siberian Husky to have fun and burn off excess energy. It is a great way to turn the athletic talents for jumping and climbing to a positive and rewarding activity.
Before training in Agility, you should teach your Siberian Husky the four basic obedience commands: Come, Sit, Down, and Stay.
These basic commands are important for keeping control of your dog on the agility course and for keeping training as fun and not frustrating!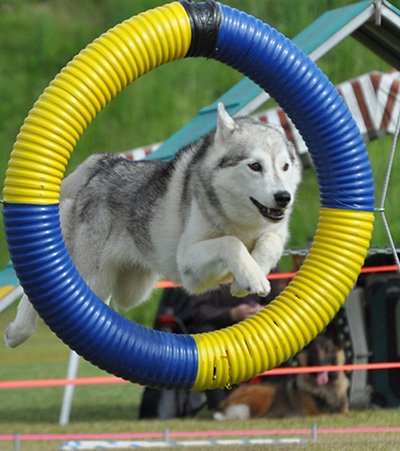 Sledding
We all know that Siberian Huskies love to run! After all, that is what they were bred to do. Now our pets may not be suited to run the Iditarod but with proper training and some equipment, we can enjoy some of the smaller races offered by the local sleddog clubs.
If you would like to venture into the world of sleddog racing it is best to meet up with some well seasoned members of the local sleddog clubs. These people know the importance of training the Siberian athelete. Before you go out and buy all the expensive equipment, you should find out if your dog enjoys running on a team. Some people will let you try out your dog with a more seasoned dog and on their equipment to see if your dog would enjoy running.
Some important things to remember in training are:
Do not run your dog if it is greater than 50 degrees F
Do not run your dog on paved roads or sidewalks
Do not feed your dog a full meal before a long run or immediately afterwards
Make sure your dog is given plenty of water